All My Other Crochet Patterns!

Yes, all my crochet patterns that don't yet fit into a section of their own can be found here.
We have a coaster and doily, two blankets, a scarf, some bracelets, and a garland - and what pleasure it has given me to work out patterns for these items!

Crochet Coaster and Matching Doily

Five rows starting with a magic ring and ending with chain loops!
Quick and easy to work, you won't want to stop. And you don't have to - because you can carry on and create the doily below!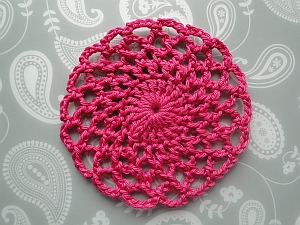 ~~~~~
Although the first five rows are the same as the coaster above, the full pattern for this doily/placemat has its own page to make things easier (I hope!)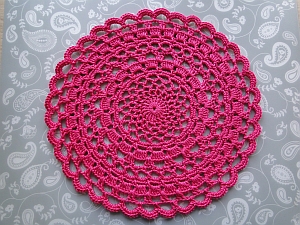 Baby Blankets :)

Found some fab baby yarn - so decided to make a blankie!
Worked in rows of dc (UK tr) and with a simple edging, this little blanket would make a great gift.
You can vary the size of the blanket, too, and I tell you how at the start of the pattern.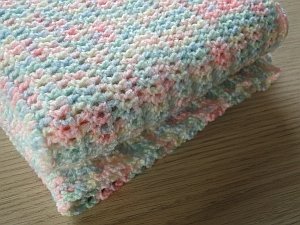 ~~~~~
Here's a fun blankie for baby with a pretty shell edging.
Crochet it with or without the stripe (see my pix of the stripeless version) from the bottom up using dc (or trebles, for UK pattern-readers.) I include all the row stitch-counts so you always know where you are, as we increase, increase, increase a bit more... then shape the two top parts of the heart with decreases!
Makes a lovely Valentine baby gift, or just an "I love you" gift at any time of year!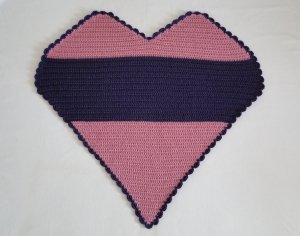 A Scarf!

Worked in a soft Aran weight yarn, this scarf grows fast!
My pattern includes lots of photos to show you exactly how to make this very stylish piece.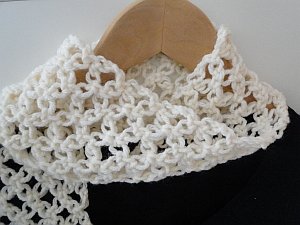 Crochet Bracelets

You're only six steps away from creating a beautiful bracelet with button and beads.
Looks fab without the beads, too!
Or dispense with the button, as well - just crochet the basic pattern, sew the ends together, and you'll still end up with a great little piece of crochet jewelry :)

~~~~~
My 10 step photo tutorial shows you how to crochet a delightful braided bracelet with a button attachment.
~~~~~
Use a small amount of yarn and some pearly white beads to create this right-royal bracelet, excellent for adults, wonderful for the smaller folk.
I worked a magic ring at the start, then finished the bracelet by joining to the ring and weaving my ends into it - so no unsightly knots or yarn ends!

~~~~~
And here are two very simple bracelets, one with beads, that you can whip up in no time:

~~~~~
A Heart Garland

This heart garland is, I can modestly say, an incredibly interesting pattern!
It has bobbles, a few basic stitches, and the heart shape suddenly leaps out of nowhere!
I guarantee you'll spend the first couple of minutes wondering whether that first heart is ever going to appear :)

But it does. Phew! And from then on, this pretty braid-style garland works up fairly quickly.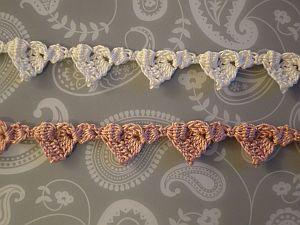 ~~~~~