All My Other Crochet Patterns!

I'm doing an end-of-February clean up on my site, yippee!
So I'm putting more patterns into sections of their own in the menu on the left.
Soon this page will have links to all the patterns on the site - my site map, if you will.
So - working like crazy on the laptop (PC under repair...) and crocheting any spare minute I get!

Crochet Coaster and Matching Doily

Five rows starting with a magic ring and ending with chain loops!
Quick and easy to work, you won't want to stop. And you don't have to - because you can carry on and create the doily below!

~~~~~
Although the first five rows are the same as the coaster above, the full pattern for this doily/placemat has its own page to make things easier (I hope!)
~~~~~
A Scarf!

Worked in a soft Aran weight yarn, this scarf grows fast!
My pattern includes lots of photos to show you exactly how to make this very stylish piece.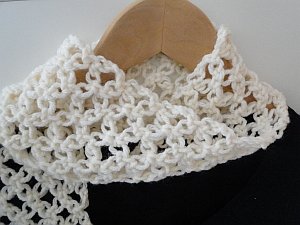 ~~~~~
A Heart Garland

This heart garland is, I can modestly say, an incredibly interesting pattern!
It has bobbles, a few basic stitches, and the heart shape suddenly leaps out of nowhere!
I guarantee you'll spend the first couple of minutes wondering whether that first heart is ever going to appear :)

But it does. Phew! And from then on, this pretty braid-style garland works up fairly quickly.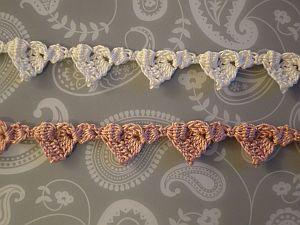 ~~~~~