Droploop Picot

My Droploop Picot flower is small and pretty. To drop that loop, you remove your hook from a chain then pick it up again to carry on. A nice effect! Thread other flowers through the loops, add a middle, or just use as a flower center on its own.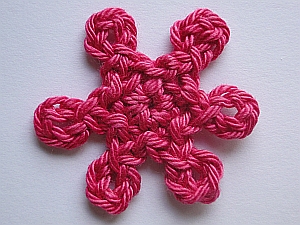 Stitches
sc (UK dc)

Droploop Picot Pattern
Round 1: ch 2, 6 sc into 2nd ch from hook, ss into 1st sc to make your circle. SM that ss as we join into it at the end.
Round 2: *ch 7, count to 6th ch from hook, remove hook from loop and insert hook through that 6th ch.
From the back, gently bring dropped loop round to hook; (the front of the chain seems to naturally bend round towards the hook - crochet magic!) - so I pick it up and pull it through our 6th ch.
Ch 1, ss into next st on circle*
Repeat from * to * 5 times, working your last ss into the joining ss from Round 1 (stitch marked.)
Tie off and weave this end from front to back through the back loop of the ss you've just worked into and then around the back of the piece.
Here are some pix to show dropping the loop and picking it up!

Chain 7: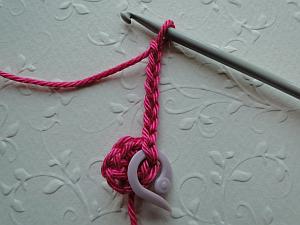 Drop the loop - hook into 6th ch: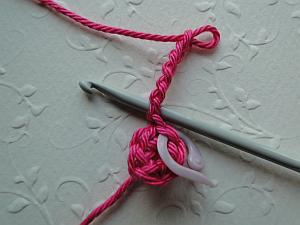 Pick up dropped loop: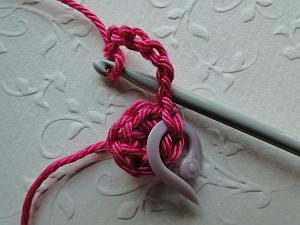 ~~~~~