My Tiny Crochet Heart

This tiny crochet heart pattern came to me quite by accident as I was working on some petal designs!
My Tiny Crochet Heart Pattern

If using a bead, thread your bead onto your yarn first.
Make with a slip knot.
First side of heart: ch 3, 4 dc (UK tr) into 3rd ch from hook.
We will call this 3rd ch our "starting chain" as it is the first chain we worked.
Picot at bottom of heart: ch 2, ss into 2nd ch from hook to make your picot.
(To make a picot with a bead: ch 1, move bead up to hook, ch 1 to secure bead, ss into 2nd ch from hook.)
Second side of heart: 4 dc (UK tr) into starting chain, ch 2, ss into same stitch to finish your second side. Tip: When working up the second side of the heart, work over the tail end of your yarn:
Going up the second side and crocheting over the tail end.
Now tie off: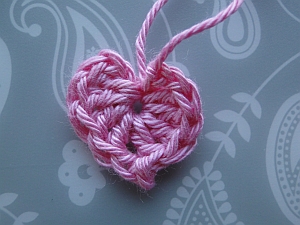 Both tail ends on right hand side of heart.
Then turn your heart over and weave each end into the back.
Start from the same side as your final slip stitch, working through the stitches around the middle...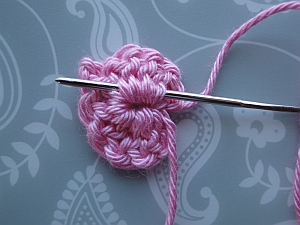 Weaving in each tail end around the back center of heart.
...and round to the other side. Then you can snip them both off together!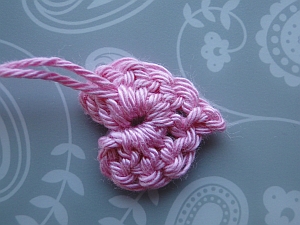 Both tail ends ready for snipping.
There - a tiny heart just for you :)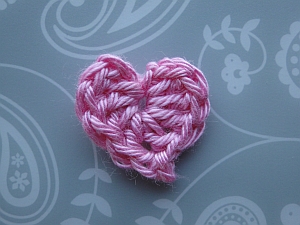 Now try another heart pattern:

~~~~~