Alien

The alien crochet flower is out of this world! I can just imagine our alien whizzing through the crochet cosmos, waving its six antennae from a starry crochet center ... I do hope there are crocheters in other universes, it would be fun to meet up :)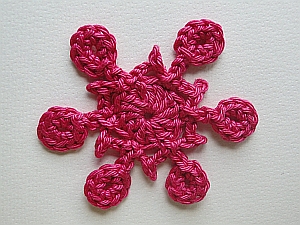 Stitches
sc (UK dc)
dc (UK tr)

Alien Pattern
Round 1 - Center Circle: ch 4, 12 dc into 4th ch from hook; skip the 4 starting chain and ss into 1st dc to join. SM this ss as we join into it at the end of Round 2.
Round 2 - Antennae and Starry Points: *ch 7, ss into 5th ch from hook to form a ring.
Pass working yarn under your work; the center circle and antenna leg can now be positioned above your hook:
Starting the antenna ring.
Crochet 8 sc into ring. ( I don't work a chain before starting these 8 sc.)
Passing working yarn under work again, ss into 1st sc of this ring to join: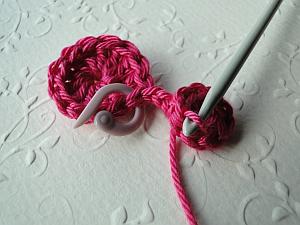 Antenna ring complete.
Now ch 1.

Keep the working yarn under your work as you move the piece to crochet 1 ss into each of the remaining 2 ch at the base of the leg; ss into same st on center circle where you began this leg:
Antenna finished.
Ch 3, ss into 2nd ch from hook, ch 2; skip next st on circle, ss into next st*
Starry point worked.
Repeat from * to * 5 times, working your final ss into the joining ss from the end of Round 1, which I stitch marked earlier.

Tie off; weave this end into the base of the 1st leg at the back and then down around the center.

~~~~~