Crochet Braids and Cords

When I'm almost too tired to crochet, the one thing I like to do is grab my little hook, a ball of yarn, and just make some chain, fiddle about with it, see what happens.
And what often happens is... a braid!
A few chains, a few stitches, and a leaf appears!
Make for an edging, decorative feature, or start and end with a length of chain to whip up a leafy necklace.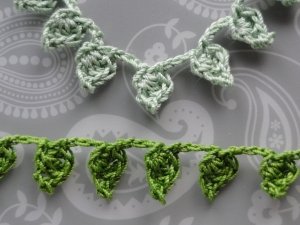 ~~~~~
Here are two bracelet patterns on my site - but you don't have to work them up as such.
You can just follow the basic pattern and crochet the braid.
With or without beads, this is such a pretty piece.
Follow steps 1 - 3 to make your braid, and weave in the ends.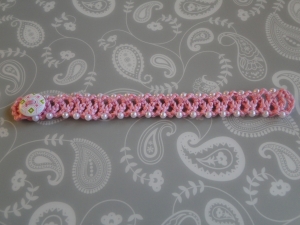 ~~~~~
Simple stitches along a chain produced the Buttonbraid Bracelet.
You'll find instructions for making just the braid in the pink box.

~~~~~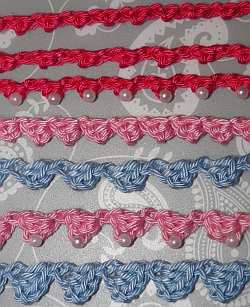 A set of seven braids for you to work through over an evening or two. I like the simple things in life - and these fit the bill perfectly! They gave me lots of ideas for other designs, and you'll be seeing a few other lovely little items to make here on the site very soon that use some of these very basic techniques.

~~~~~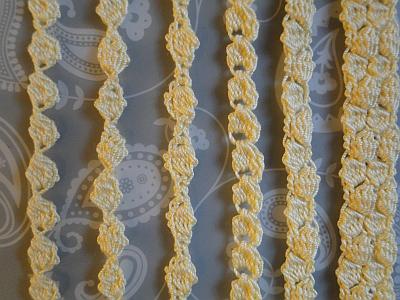 Hmmm. The bobble. Doesn't sound so exotic, does it? Yet I find this stitch quite beautiful!
The single bobble really comes into its own with a braid, as it's often the star of the show, and doesn't get lost among a whole jumble of other bobbles vying for attention!
Hope you enjoy making these wonderful, stylish braids.

~~~~~
Now, there is one other pattern on my site so far that is made as a braid: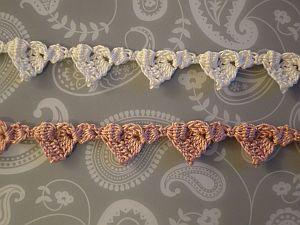 Aren't they pretty? You can make these up in a heavier weight yarn, too, and they'll still look good!
Once you get into the swing of this braid, you can just keep going forever, it's a true delight to make.
If only there were more than 24 hours in a day :)

~~~~~
Home
› Crochet Braids and Cords