Hexagon Bullion

The Hexagon Bullion is an attractive piece to crochet, with plenty of ways to combine this piece with other flowers, either through the larger spaces or between the long center stitches - or both!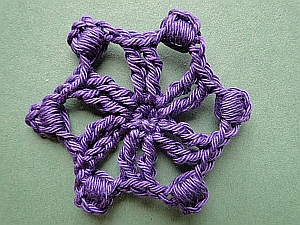 Stitches
sc (UK dc)
trc (UK dtr) - yo twice, insert hook into st, yo, pull yarn through st; (yo, pull yarn through 2 loops) 3 times.
Bullion: wrap yarn 6 times around hook. Insert hook into ch, yo, pull loop through ch; pull this same loop through all wraps and original loop on hook.
Check out my full tutorial on how to work bullion stitch with photos and videos.
If you only need a quick reminder, here's one of the videos from that page showing you how I work a 5-wrap bullion - but do remember that in the pattern below we are using 6 wraps :)

Hexagon Bullion Pattern
Round 1 - Center Circle: ch 2, 5 sc into 2nd ch from hook; ss into 1st sc. SM this ss as we work our last repeat into it.
Round 2 - Petals: ch 9, bullion into 4th ch from hook, ch 1.
Ensure your 1 ch isn't worked too tightly or it will disappear into the bullion!
Now trc into same st on center circle where you began - 1st petal worked.
(Trc into next st on center circle, ch 5, bullion into 4th ch from hook, ch 1. Trc into same st on circle where you began) 5 times, working your last repeat into the joining ss at the start of the round.
Finish with a ss into the 5th ch of beginning 9 ch.
If you can't quite spot that 5th ch, it's just to the bottom right of your first bullion:
Thread stitch marker shows where to join at the end :)
Tie off and gently tighten this end before weaving it in along the back of the first bullion worked, then down the next trc "leg" and around the center sts.
~~~~~