Crochet Leaf: Flower Crochet Patterns, Appliqués, and More!

I'm always on the lookout for fun stuff to crochet, be it flower crochet patterns, little appliqués, braids, that kind of thing - often small projects that produce an attractive, useable item. Or maybe something more exotic, something a little different.
So on this site you'll find some of my own crochet ideas and designs, as well as stitch instructions, suggestions for increasing your knowledge of the craft, and all kinds of wonders that will inspire!
As with most things in life, this site is a work in progress :)
Most popular: Basic Crochet Heart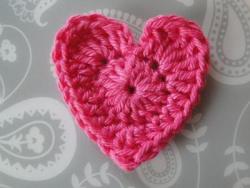 Latest designs:

More New Designs

They've been a long time in the works, but this matching coaster and doily/placemat pair were worth it!
The doily is simply an extension of the coaster, so start with the coaster, and then see if you feel like continuing to make the doily! They each have their own page, because they didn't want to share ;)

The Lacy Crochet Coaster: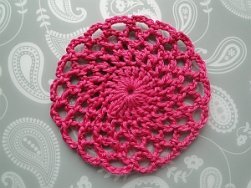 And my Lacy Crochet Doily: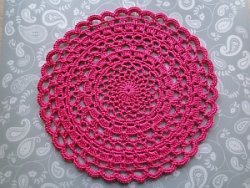 ~~~~~
Here's another free pattern - my Easy Crochet Baby Blanket.

This project uses dc (UK tr) and a simple edging. It's my first design using variegated yarn - WOW! You see, you're never too old to try something new!

~~~~~
Other bits 'n bobs!
My coaster and placemat/doily patterns are ready, hooray!
There are a few coaster patterns all done - just have to be written up and photos taken.

I did find my C2C notes - maybe I'll work out what they mean... one day soon ;)
There's a Solomon Square all prepped, too.

I'm also working on a collection of flowers which I'm turning into an ebook.
So life's pretty busy, summer came and went, and we are in deep midwinter already!

Keep in Touch through Facebook or my Newsletter

Join our community, a lovely group of people who live all over the world. I do appreciate all the "crochet-leafers" on FB, and you're very welcome to join us:

And/or subscribe to my newsletter The Crochet Leaflet, which will tell you about my latest patterns as well as any other news I have to tell you. That way, you won't miss a thing.

Thanks for visiting me here - and as ever, I wish you... A Fab Time Crocheting!
Claire from Crochet Leaf
~~~~~