Ballerina


Ballerina is an easy flower to crochet in two rounds. The six little holes around the center will come in handy when threading through the petals of other flowers to combine this little piece with something larger.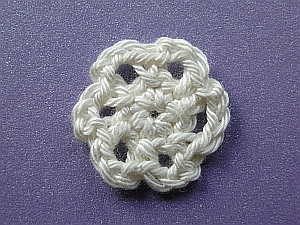 Stitches
sc (UK dc)
Check the Info Page for abbreviations, special terms etc.

Ballerina Pattern
Round 1: ch 2, 6 sc into 2nd ch from hook, ss into 1st sc to join.
Round 2: ch 1, sc into same st; (ch 3, sc into next st) 5 times.
Ch 3, ss into 1st sc at start of round.
Tie off; weave end under back loop of the stitch you joined into and into the back of the piece.

~~~~~