Solomon

Solomon is a super little flower - two solomon's knots worked for each petal around in a circle and you're done! Makes a great centerpiece for one of your flower arrangements! You can add a tiny flower to the middle of this piece, too.

Solomon's Knot is also known as the Lover's Knot - so I thought that a few Solomon's flowers would go rather well on my Valentine's Twig Tree!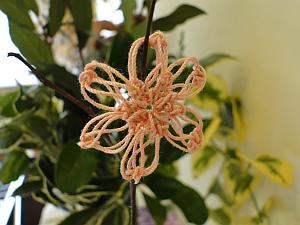 Stitches
sc (UK dc)

SK - Solomon's Knot: work one chain that is around one and a half centimeters/three quarters of an inch long. (Or work longer/shorter stitches if you like!) Then sc into the back loop of that chain.
In this pattern we will work 2 SK in succession to make each petal.
See my tutorial about how to crochet Solomon's knot stitch - here's a quick video reminder of the stitch - ignore the ch 1 at the start and use longer chains for the pattern on this page:
Solomon Pattern
Step 1: ch 2, sc into 2nd ch from hook. That 2nd ch from your hook is your home stitch: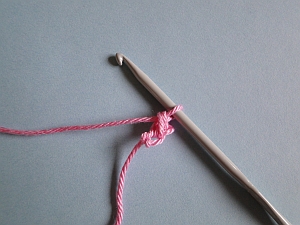 ~~~~~
Step 2  - first five petals: (2 SK, 1 sc into home) 5 times: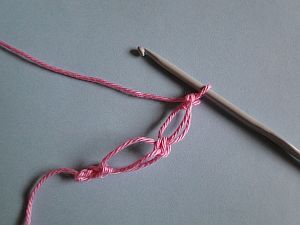 2 stitches worked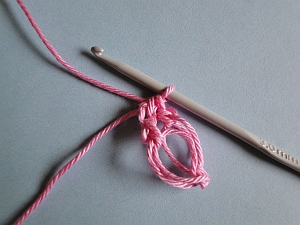 Then join into home stitch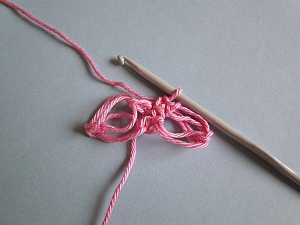 Another 2 SKs and the second petal is done.
~~~~~
Step 3: - sixth petal: 2 SK; ss into 1st sc to join: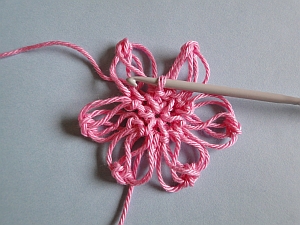 Final ss to join
Tie off; weave your working end from front to back through the same sc into which you joined and then securely around the center of the flower a couple of times to secure.
If you're not using the tail end to attach your flower to another piece, weave that in securely also.

~~~~~