Crochet Flower Combos Part 4: Special Effects

Crochet Flower Combos patterns 23 - 36 comprise the last of our designs - for now! 
Fun techniques and shapes make these flowers really special, and I had a blast thinking them up - hope you enjoy them!

Important: please check out the info page if you haven't already :)
Links to the other patterns in the flower combos series:
Part 1: Pretty and Simple - patterns 1 - 8
Part 2: Leaves and Stems - patterns 9 - 16
Part 3: Middles - patterns 17 - 22
Now we can put together all of the combos in the series, making for some amazingly unique creations!
The two examples below give you an idea of the possibilities, and there are more combo suggestions below the patterns on this page.
First, a very delicate combo of two Solomon's flowers, one in pink, one in gray, both crocheted in sports-weight yarn, plus the Mamselle flower from Part 1, crocheted in white thread for the center. This flower has to be sewn together.
Then we have Dragontail in dark green and Dragontail Baby in light blue. Pop the larger dragontails through the tails of our baby from back to front and it stays together pretty well! Would also make quite a nifty Christmas tree decoration :)
Patterns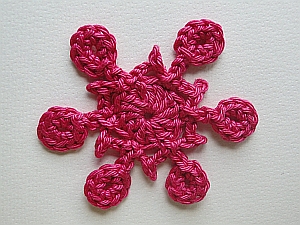 ~~~~~
~~~~~
~~~~~
~~~~~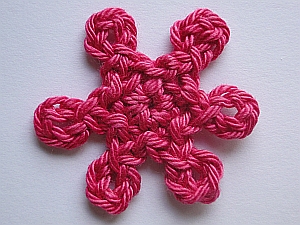 ~~~~~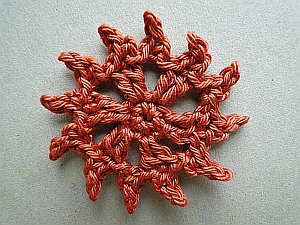 ~~~~~
~~~~~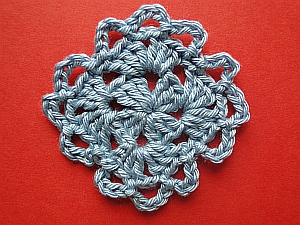 ~~~~~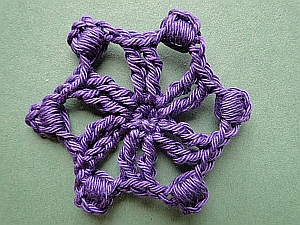 ~~~~~
~~~~~
~~~~~
~~~~~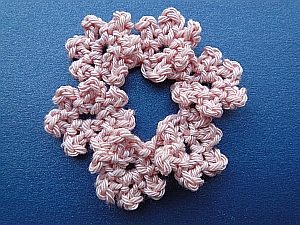 ~~~~~
~~~~~
More Combo Ideas

Here are my creations using the flowers from Part 4 - on this page - as well as flowers from Parts 1 - 3 of my combo collection!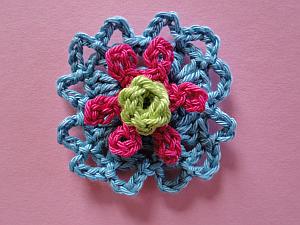 ~~~~~
~~~~~
Mamselle (in thread weight);
Pull Up Loops (both in sports weight):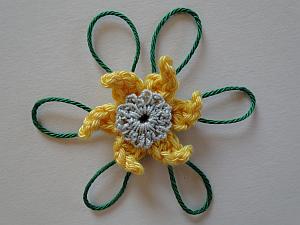 ~~~~~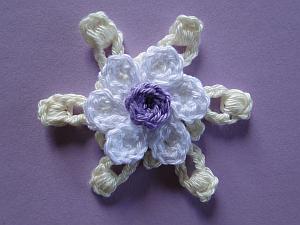 ~~~~~
The same pattern worked twice.
Pop the antennae of our pink Alien from front to back through the starry points of green Alien.
You could add another piece to the middle if you like:

~~~~~
Insert each of Longleaf's leaves from front to back between each pair of two long stitches of Hexagon Bullion.
Looks good on its own - or add a center:

~~~~~
~~~~~
~~~~~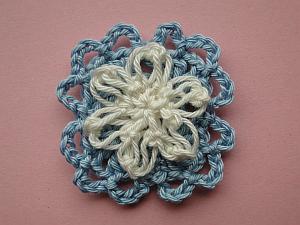 ~~~~~
Longlegs Trefoil in dark blue;
Longlegs in light gray;
Flower Web in red :)
Insert each of Longleg's legs from front to back through the space below each pointy tip of Flower Web.
Lay Longlegs Trefoil on top of the piece, and pop each of his legs from front to back through the inner spaces of Flower Web: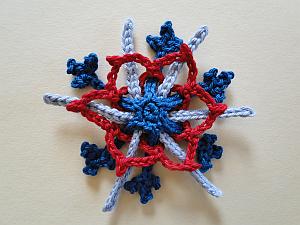 Longlegs in light brown;
Dot to Dot in white;
Rings Around in pink!
Pull each of Longleg's legs from back to front through the center holes of Rings Around.
Lay this piece on top of Dot to Dot, then pull the dots from back to front between each of the long legs:

~~~~~
Crochet Flower Combos Part 4