Crochet Twig Trees
Crochet twig trees are a new adventure for me! As you may know, I love trees - and this is a good way to combine the *idea* of a tree with the craft of crochet.
So, it's a new little project, and I have found a couple of very nice twigs which is all you need, plus a vase or some kind of pot or holder to put the twigs in.
My first tree is for Christmas, and I hope to use lots more of my crochet creations to make some lovely decorations for other occasions and moments throughout the year :)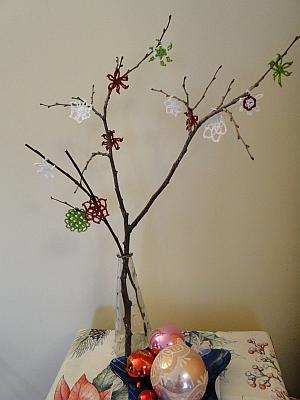 A few twigs, ten or twelve little flowers that you can just pop onto the tree - what could be simpler?
More ideas in the pipeline for my next twig tree. See you soon!