Crochet Stitch Guide

My crochet stitch guide gives photo instructions for all the basic stitches as well as more interesting ones!
We start with a chain... learn to single crochet... find out about the wonder of slip stitching - and then dive into the world of doubles, trebles, and exotica galore!
I'll be sharing my thoughts and tips as we go along, and giving you ideas of things you can make with your new found stitching skills.
My photo tutorial plus a short video will get you started on your journey!
Learn how to crochet the basic stitch; then move on to making rows.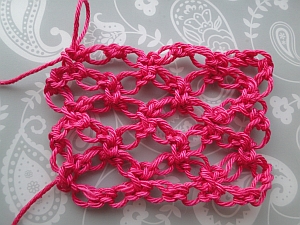 Use Solomon's Knots to make a scarf - follow my free pattern here: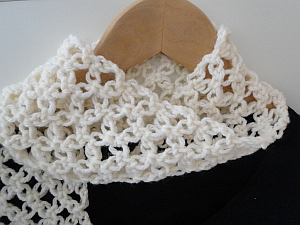 ~~~~~
My full tutorial shows you exactly how I crochet bullion stitch.
Check out my tips, photos - and videos, too!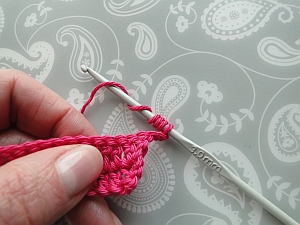 ~~~~~
Start with a slip knot. Work your first chain. Then another... then another!
Keep going until you've worked your first length of chain. Then learn how to end your chain.
After that, you'll be ready to make a chain bracelet :)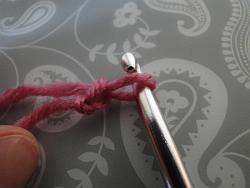 ~~~~~
Single Crochet (UK double crochet)

After yards of chaining, it's time for single crochet!
Find out how to do it and how to keep count of stitches.

This is so enjoyable to work - it's neat and tidy, no-fuss, and very easy.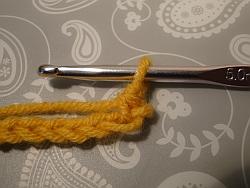 ~~~~~
In the single crochet tutorial above, we made a square.
And along the top of that square we're going to work a row of slip stitches.

It's a little stitch, but extremely useful.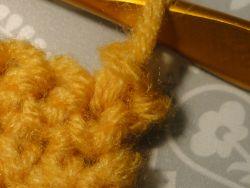 ~~~~~
Double Crochet (UK treble crochet)
I love the speed of double crochet. It's tall and lacy, and works up beautifully into shells, which I can't wait to show you!
This is probably the stitch I love most when I just want to relax and make up something quickly and easily - maybe a simple granny square, for example
~~~~~
Half double crochet (UK half treble crochet)

If you conquered the doubles above, half double crochet will seem wonderfully easy!
This is a clever little stitch - it results in such a pretty effect once you've done several rows.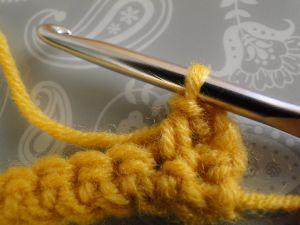 ~~~~~
My page about the famous magic ring features a useful video by Sedruola, links for more tutorials and a free instruction booklet, as well as a few observations and tips from yours truly!
Patterns of mine that feature the magic ring are also linked to from here - such as the penny farthing appliqué here - so you can start a quick project and practise to your heart's content!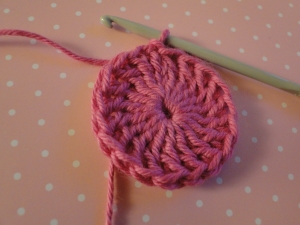 ~~~~~
What fun this is!
A truly satisfying stitch if I may say so. Follow my step by step tutorial and you'll be bobbling along in no time!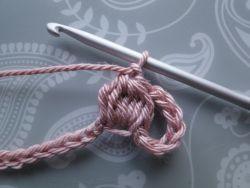 ~~~~~