Appliqué Crochet Patterns

Here are my appliqué crochet patterns - a small but growing collection of projects that gave me much pleasure to dream up!
For flower appliqués, check out my flower crochet patterns!
For heart appliqués, go to my heart patterns page!

~~~~~
An easy Crochet Butterfly Pattern
A pattern worked in one round with your two yarn ends snipped to make the butterfly's antennae! 
A great little project that you can complete in a few minutes.
~~~~~
A jolly sun with eight sun rays.
You can add a chain to hang this up, too.
It starts with a magic ring, and it's really fun to make!
~~~~~
A fairly realistic bike, this, with handlebars that stick out on each side (you can make a flat version, too.)
Customize with a contrasting yarn to show off your spokes ;)

Add a brooch back and make a gift for your bike-mad friends.
~~~~~
A real penny and a real farthing... plus a crocheted version of the penny farthing bike!
One of those designs where I just wanted to produce a shape that, I hope, will bring a little Victorian fun into your lives!
Use for a vintage card or Victorian project.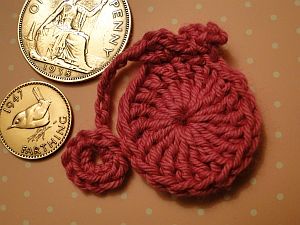 ~~~~~
Mixing a little industrial Victoriana and our sedately fabulous craft, here's a Steampunk-style gear wheel.
This example's in thread, and my tutorial features a gear worked in DK weight yarn - so you can work in whatever yarn suits you to make a coaster or decorative item.

~~~~~
Two simple rounds make this beautiful star or cross shape.
Mine is worked in thread, which makes quite a small piece, ideal for a little ornamentation.
However, you can certainly use a heavier weight yarn if you prefer!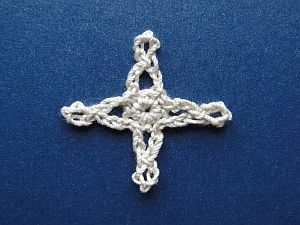 ~~~~~
A six point star with pearl beads worked into a picot on each point.
My step-by-step written pattern and photo tutorial show you exactly how it's done.
~~~~~
I'm thrilled to present... my Silver Star!
He's got a lot of character and looks great on my bonsai which needs cheering up!
Follow the written pattern and/or the photos.
Find out how to tie your two yarn ends together nicely so you can hang your star up or attach it to a gift.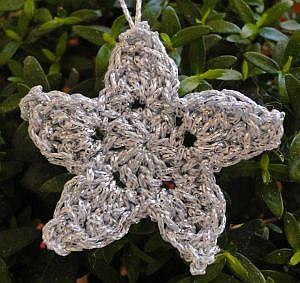 ~~~~~