Vintage Crochet is *FUN*!

You know, if you're a complete beginner, why not try a vintage crochet pattern with your favorite hook and yarn just to see how it goes?
Then you can work the same pattern with a smaller hook and finer yarn.
Digging around in the vintage world is fascinating. It gives you an insight into the history of crochet, and you'll find yourself marveling at the amazing skill of women long ago who were just like us - trying to create something beautiful for their homes or for clothes and accessories.
In this section of the site, I'm going to show you what I've found out about vintage crochet. I've attempted smaller, easier projects, and will guide you through what I did.
I have begun to put together a little page about my vintage crochet books and magazines - and hope to be reunited with most of them once I get back to living in the city, where my collection resides :)

Not my design - but one taken from the 1891 publication of Home Work.
I was very pleased with how it turned out.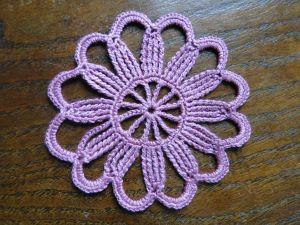 ~~~~~
This one is my design - but copied from an old crocheted mat given to me by a friend.
I didn't stick exactly to the original design, but had great fun working out how to create something that almost looked like the flower I wanted!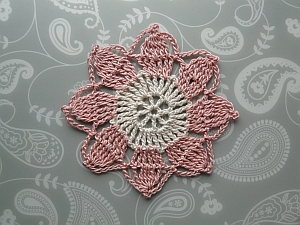 ~~~~~
A variation of the pattern above.
Sometimes, I just don't want to "stop there!"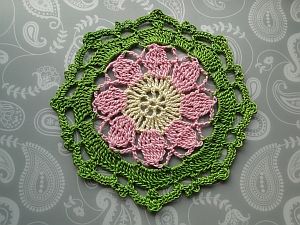 ~~~~~