Crochet Christmas Twig Tree

My Crochet Christmas Twig Tree is a quick, easy project! A few twigs, some crochet flowers, a narrow vase - and you're all set!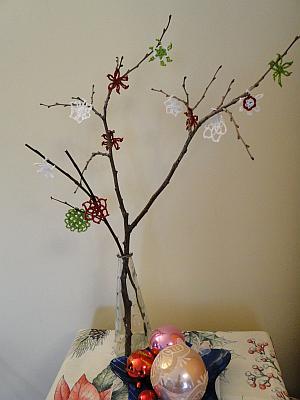 I was lucky to find a couple of nicely shaped twigs lying around under the trees, and they fit very nicely into my narrow vase from Ikea :)
I made the flowers in size 10 thread and a 1.75 mm hook. If you have a nice thick twig, you can use heavier-weight yarn of course.

I chose red, green and white as my Christmas colors - red for health, as well as the red berries that come out on trees and bushes at this time of year; green for evergreen trees and Christmas holly leaves; and white for snow and purity.
The flowers for my tree are all from my Crochet Flower Combos. You don't need to make many to create a really effective, pretty tree - 10 to 12 flowers are probably the most you will need for something like this. Only two of my flowers are "combos" - or combined flowers - the rest are just single pieces, and they're all very quick to work.
Make your flowers according the pattern and weave in your ends. Then you can use one of the petals to hang your flowers - no little loops or anything fiddly to tie together!
OK - here are the patterns I used. The first two combine two flowers - you just put the longer leaves through the little leaves from front to back - no sewing required!
Oh, and if you want to gently iron your flowers to get them nice and flat, you can - I ironed the pointy loop flowers to get them looking as nice as possible.

Flower 1
A combo of Pointy Loop in green;
Cantata in white: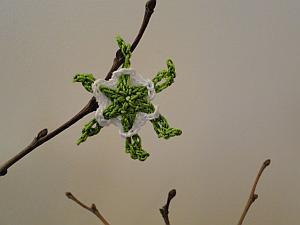 ~~~~~
Flower 2
A combo of Loopy Loop in white;
Ballerina in red: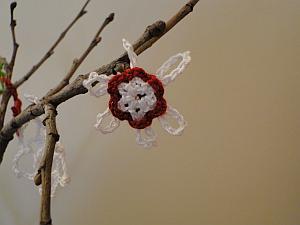 ~~~~~
Flower 3
It's Pointy Loop again - this time in red. This flower looked great by itself, and I think you could just make lots of this piece in a few different colors and your twig tree would look excellent!
Don't forget, I ironed this piece to shape the leaves nicely in this finer yarn: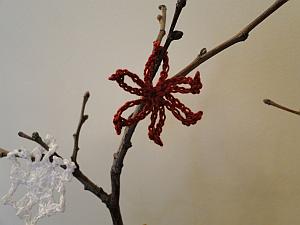 ~~~~~
Flowers 4 and 5
On the left in green is Granny's Flower. Not necessarily the best flower for my tree, but I wanted to see what it looked like, and it's pretty :)
On the right in red, Flower Web. I love the look of this one on the tree, very effective:

~~~~~
Flower 6
A snowflake effect using the pattern for Dragontail Baby!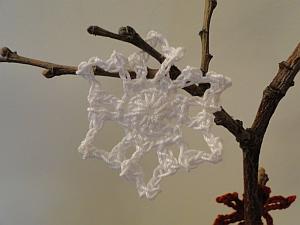 ~~~~~
Flower 7
Hope you can see my white Wheel as my background isn't brilliant here, but this pattern worked out very nicely for the tree indeed: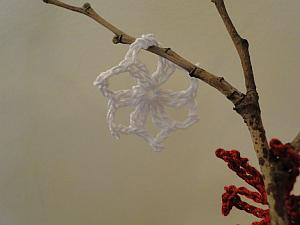 I had a wonderful time making the Crochet Christmas Twig Tree, and my mind is already buzzing with my next twiggy project for another occasion :)