Valentine's Twig Tree

The Valentine's twig tree is a romantic creation for Valentine's Day or special occasions!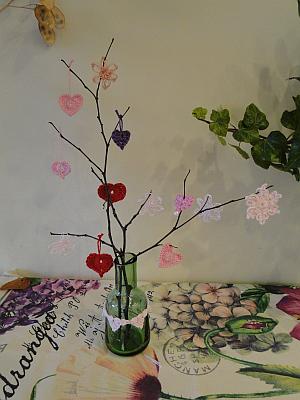 All the patterns for my Valentine's Twig Tree are linked to below :)
I used thread and sports-weight yarn for my decorations, because I decided to use some smaller twigs for this project, and everything worked out very nicely indeed. You can choose two or three patterns and then make a few of each, as once you've made one, it's easy to work up two or three more.
Colors are pink of various shades, red, and purple. You could mix in white, or something sparkly and magical, too.
I used various hearts, and also worked two of my favorite flower patterns.

One of the flowers is made of Solomon's Knots. These are also called Love Knots, so they will go superbly on any romantic tree as they are easy to hang from twigs :)
In fact, I was tempted to make a Valentine's twig tree using only Solomon's Knot flowers, as they look so fantastic, so might try that out at some point for another tree!

My little green vase was perfect, and I popped a little heart garland around it to finish it off. The heart garland is fantastic fun but quite fiddly if you're in a hurry, so if you have a bit of lace or a ribbon to tie around your vase, that would be just fabulous!

Here are the patterns I used:

Heart 1
~~~~~
Heart 2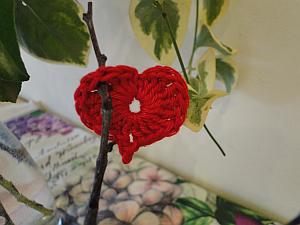 ~~~~~
Heart 3
~~~~~
Flower 1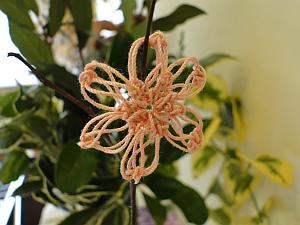 ~~~~~
Flower 2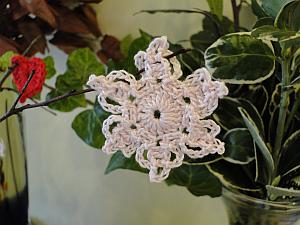 ~~~~~
Vase Decoration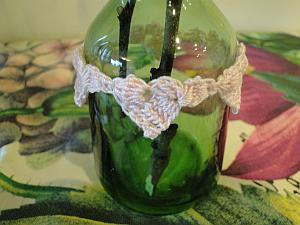 ~~~~~
Wishing you all a Happy Valentine's Day, as well as love and good things for any special occasion you may be celebrating at the moment :)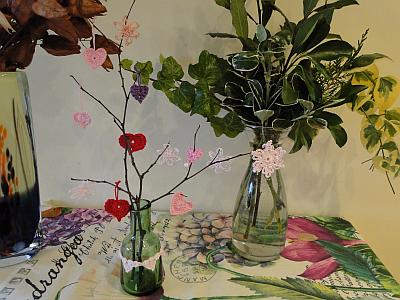 ~~~~~