Learn Double Crochet

Abbreviation: dc (UK tr)

I really enjoy this stitch. It grows super fast, and is, quite simply, fun to work!
Rather than trying to work this stitch for the first time in that fiddly chain, let's do a row of single crochet to begin with. Then we will work a couple of rows so you can see how to turn.

Step-by-Step Double Crochet

Step 1: Work a row of single crochet and put a stitch marker into your last stitch worked - because we will not work into this stitch:

~~~~~
Step 2: Work 3 chain - this is your turning chain, which gives you enough height to make your next stitch, as double crochet is quite high. The 3 chain will count as the first stitch of your new row:

~~~~~
Step 3: Turn your work. Now the turning chains are on my right (as I am right-handed.)
We will work our first double crochet into the second stitch of the row, skipping the first stitch where my marker is:

~~~~~
Step 4: Yarn around hook.
I'm going to insert my hook into the stitch left of the marker.

~~~~~
Step 5: Insert your hook. Marker is out as it got a bit fiddly!
~~~~~
Step 6: Yarn round hook and pull a loop through: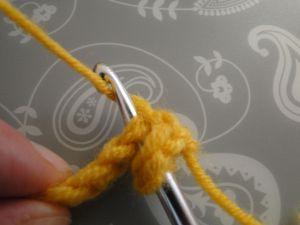 ~~~~~
Step 7: Check you now have 3 loops on your hook:
The first yarn round hook loop
And now the loop you just pulled through!
~~~~~
Step 8: Yarn round hook, pull through the top two loops: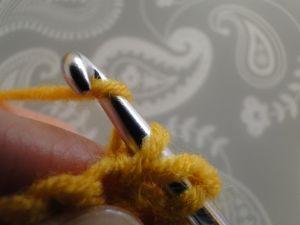 ~~~~~
Step 9: Check you now have 2 loops on your hook: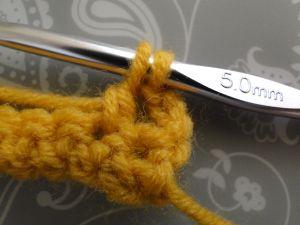 ~~~~~
Step 10: Yarn round hook again, pull that yarn through the last two loops:

First double crochet completed!
In fact, you now have the equivalent of two double crochets.
Remember, the three chain turn counts as your first treble.
And the treble you've just worked counts as your second: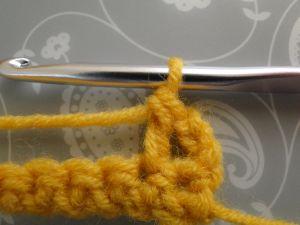 ~~~~~
Step 11: Work some more stitches - here you can see seven stitches (1 turning chain + 6 dc):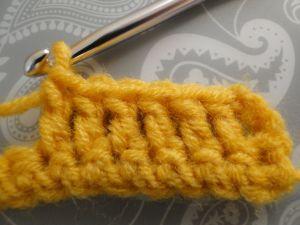 Work to the end of the row and make 3 chain for your next turn:

Step 12: Now we will work the 2nd row of double crochet.
Miss the first stitch which I've marked for you to see and work into the second stitch:

Step 13: Work along the row.
At the end of the row, you will have to work into the top chain of the 3 turning chain

A little hard to find, but here it is with a marker in it:
Work your last double crochet into the top of that turning chain and you're done:
You can now see how the turning chains and the double crochets above and below them all fit together quite nicely:

Now you can work another turn, another row, and on and on!

~~~~~