Basic Crochet Heart Gallery

OK - so I went a bit mad ;)
But at least I got to see how my Basic Crochet Heart works up in a variety of yarns.
So, without further ado, here is one heart from each weight: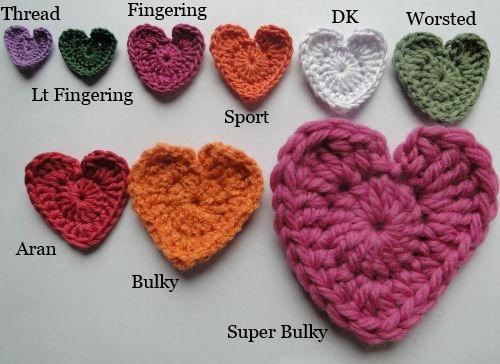 Let me show you the different hearts I made with more detail on the yarns and hook sizes.
I do tend to use the smallest hook I can for each yarn - but don't feel you have to stick to what I used.
I'm not so familiar with US hook sizes - if you want to compare them, here is a chart from Yarn Forward. (Opens a new browser window.)
All yarns are 100% cotton unless otherwise stated!

Thread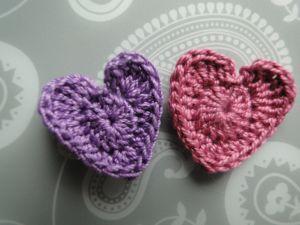 Fine weight yarns here. On the left, Alize Miss using a 1.6mm hook, and on the right, YarnArt Lily with a 2.00mm hook.
Both are wonderful to work with.

Light fingering and fingering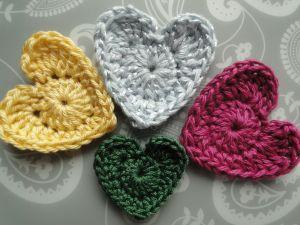 You can see the light fingering heart - it's the small green one at the bottom! This is made from Baumwolle Cable and a 2.00mm hook.
Then from left to right along the top:
YarnArt Begonia 3.00mm hook.

YarnArt Summer 3.00mm - 70% cotton, 30% rayon

DMC Senso - 2.00mm

Sport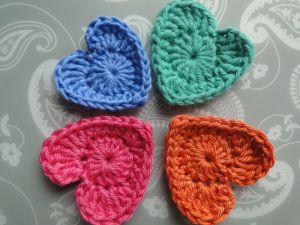 I love sport weight yarn! Easy on the eye, but gives a great effect, too.
All these hearts were made with a 3.00mm hook.

From the top left clockwise:
In blue, Alize Bella
In green, Cotton Eco by Schachenmayr Nomotta
The orange and pink hearts are both Capri by Katia
All of these yarns are fab.

Double Knitting (DK)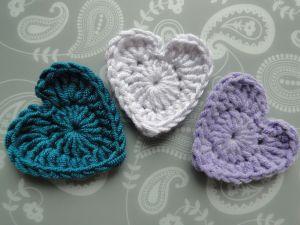 These were all crocheted with a 4.00mm hook :)

On the left, Patons UK Smoothie, a 100% acrylic yarn.
In the middle, this lovely soft tinted white yarn is called Snuggly White Whispers from Sirdar. It's 100% bamboo!

Another lovely yarn I got in the UK last year is on the right. Pastel purple here, and the yarn is Calico, also from Sirdar. This is a 60% cotton, 40% acrylic yarn. (It's brill for amigurumi, too!)
Worsted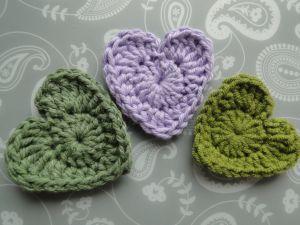 The soft green heart on the left is Pantino, by Schoeller+Stahl, and is 60% cotton and 40% acrylic. I used a 4.00mm hook.

In the center, we have Rowan Handknit Cotton - a really rich, wonderful yarn, this. Hook was also 4.00mm

And on the right, the brighter green heart is Lanoso Alara. 50% cotton, 50% acrylic, so slightly softer and came out a bit smaller as I used a 3.5mm hook here.

Aran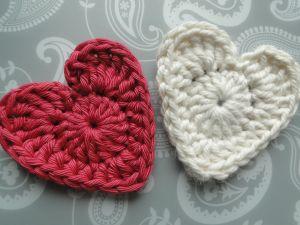 Two sweethearts here! Both using a 4.00mm hook.

The red one is Style Creativa by Anchor.
In white we have Simba, by Fibranatura - deliciously soft stuff!

Bulky. And sulky ;)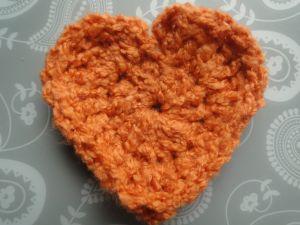 Aaargh!! Whatever possessed me to use this yarn?
Well - it is the only bulky yarn I have... so it will have to do.
The ball of yarn looks wonderful, but once it's worked up, it just seems to look like a crushed mess. Maybe I should wash it and see if it improves.
Anyway, this is Portofino Soufflé by Schoeller+Stahl.
It's 40% acrylic, 40% cotton, and 20% nylon.
I used a 5.00mm hook.
And I couldn't see where any of my next stitches were.
What a soufflé that was!

Super-duper bulky!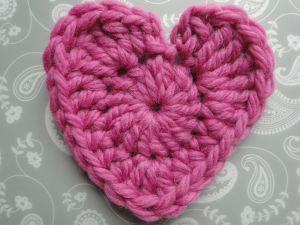 This is the first time I've ever used a super bulky yarn, and I absolutely loved the experience!
Yarn is called Big Wool, and it's made by Rowan.
It's 100% merino.

I used a 10.00mm hook - a first for me :)
The heart came out really well at this size and in this yarn, it really is a winner!

Lonely hearts...

I'm going to add a few other heart projects I'm making using this pattern.
So here's one pic to start us off before I start another photo session and think about another page: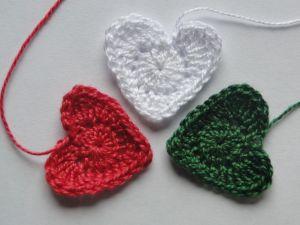 A Christmas trio with thread weight yarn.
~~~~~